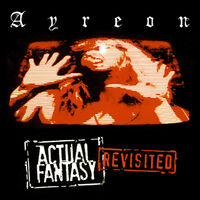 You may also be looking for the song of the same name.
Unlike most Ayreon albums, the songs on Actual Fantasy are not linked by one continuous plot, but instead draws on sciene fiction and fantasy films for inspiration, as well as stories written by Arjen himself[1].
Song List
Edit
No. Title
"Actual Fantasy"
"Abbey of Synn" - References Der Name der Rose
"The Stranger from Within"
"Computer Eyes"
"Beyond the Last Horizon"
"Farside of the World"
"Back on Planet Earth"
"Forevermore"
1998 reissue bonus tracks
"The Dawn of Man"
"The Stanger from Within (Single Version)"
External Links
Edit