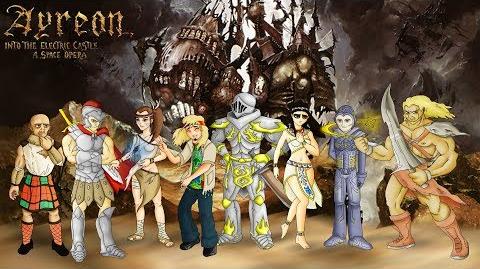 Another Time, Another Space is the tenth and final song on the second CD of Into the Electric Castle, and the seventeenth and final song of the entire album. Its length is 5:20. It is preceded by "Forever" of the Stars and concludes the album.
The four surviving members are back on earth, and have varying feelings about their adventure. The Hippie remembers some things, and wonders if he had a dream or if he was just high. The Futureman is quite sure his memories have been erased. The Roman feels better than ever before, and considers himself reborn. The Knight is sure he found the holy grail in a dream.
The Voice somewhat ironically tells them to "remember Forever", which will be hard as he just erased their memories.
HIPPIE:
Was this a dream I just had?
I have my doubts
I can't make out the truth
From the lies here inside
What kind of trip have I been on?
Where did I go?
I'd like to know just why
Did it feel so damn real?
FUTUREMAN:
There's something strange going on
I don't know why
It's something I can't place
An open space, a shrouded face
As if my memory files
Have been erased
And then replaced by lies
False replies, clouded skies
HIPPIE & FUTUREMAN (CHORUS):
A secret yearning lurks inside
Like a dream trying to hide
Another time, another space
An empty feeling haunts my brain
A strange void I can't explain
Another time, another space
ROMAN:
I've been relieved of all my pain!
I've been reborn
A mighty storm has raged
And my fears disappeared
KNIGHT:
I've found the grail here within
In a magic dream
I have seen a world
Of make belief, of joy and grief!
CHORUS: ALL Remember Forever.....