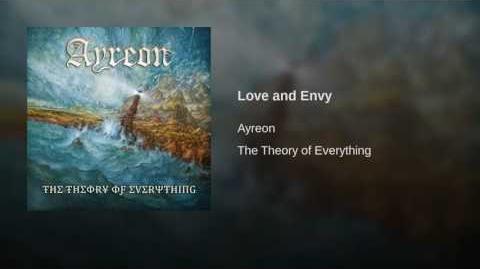 Love and Envy is the sixth song on The Theory of Everything. It is the sixth song on the first CD and the sixth song in Phase I: Singularity. It is two minutes and thirty-nine seconds long. it is preceded by "The Teacher's Discovery" and followed by "Progressive Waves."
Liner Notes
Edit
"Why is the Rival constantly bullying the Prodigy? And why is the Girl compelled to protect him?"
Characters/Singers
Edit
[Girl:]
Why do you torment him, are you jealous?
There must be a reason you're so cruel
What have you got against him?
Does he scare you?
What did he ever do to you?
[Rival:]
Oh no, I can't believe
You're falling for this loser
Oh no, I thought you knew
That I am so much cooler!
[Girl:]
Why do you despise him, are you frightened?
Are you being driven by your pride?
I think you feel threatened by his brilliance
But still you admire him, deep inside
[Rival:]
Oh no, I can't believe
You're falling for this loser
Oh no, I thought you know
That I am so much cooler!
Oh no, I always thought
That we should be together
Oh no, I really think
That you can do so much better