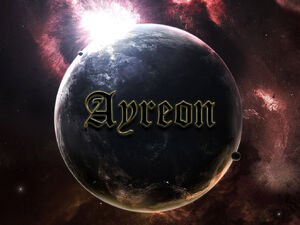 Welcome to The Electric Castle, the encyclopedia and reference for everything Ayreon!
What this Wiki is About
Ayreon is a musical project by Arjen Anthony Lucassen. The music of Ayreon covers a vast universe, from the beginning of time to the destruction of mankind and eons afterwards.
The Wiki has been significantly developed in the last few months. The biggest chunk of work that still needs to be done is on the pages for singers. If you want to contribute, please look up your favourite singer and write anything that may be relevant to Ayreon!
Main Articles
List of songs
List of songs in chronological order
Albums
The Final Experiment
Actual Fantasy
Into the Electric Castle
Universal Migrator Part 1: The Dream Sequencer
Universal Migrator Part 2: Flight of the Migrator
The Human Equation
01011001
The Theory of Everything
The Source
Live Albums
Events
Timeline
War of 2084
Age of Shadows
Locations
Universe
Earth
Milky Way Galaxy
Y
Andromeda Galaxy
Electric Castle
New Dimension
Mars
Alpha
People/Entities
Arjen's Other Projects