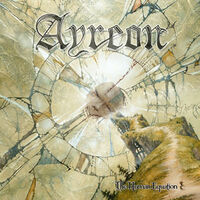 An album in the periphery of the Ayreon storyline. Released on May 24, 2005 by InsideOut Music on two CDs. Its total running time is 1:42:01.
Vocalists
Edit
Character descriptions on Characters from The Human Equation
Instrumentalists
Edit
Arjen Lucassen: All electric and acoustic guitars, bass guitars, mandolin, steel lap guitars, keyboards, synthesizers, Hammond organ
Ed Warby: All drums and percussion.
Guest Instrumentalists
Edit
Robert Baba: All violins.
Marieke van den Broek - all cellos
John McManus (Celtus, Mama's Boys)- low flute on Days 13, 16 and 18 and whistle on day 18
Jeroen Goossens - flute on Days 3, 5, 9, 14 and 18, alto flute on Day 2, bass flute on Days 5 and 14, panpipes on Day 6, descant and treble recorder on Day 13, didgeridoo on Day 16, bassoon on Day 18
Joost van den Broek (After Forever) - Synthesizer solo on Day 2, spinet on Day 13
Martin Orford (IQ, Jadis) - Synthesizer solo on Day 15
Ken Hensley (Uriah Heep) - Hammond solo on Day 16
Oliver Wakeman - Synthesizer solo on Day 17
Track List
Edit
Total running time: 50:20
Total running time: 51:41
A man lies comatose in hospital after a terrible car accident. The accident was bizarre: it happened in broad daylight with no other cars in sight. The man's wife and his best friend are keeping a bedside vigil, trying to understand how the accident happened, and hoping for any sign of recovery.
Unable to communicate with the outside world, the man finds himself trapped in a strange realm where his emotions — most of which he's repressed for a long time — have come to life to confront him with all the choices he has made in his life — and their consequences.
The accident has left the man confused and unable to remember what happened, but as his emotions lead him from one memory to the next, the events leading up to the accident become clear, and he realizes the only way to wake from the coma is to find a way out of his emotional prison.
The Human Equation also came as a special edition set with two CDs and a DVD. The DVD contained:
"Inside": Behind the scenes: The Human Equation - 45:27
"Concept": The concept of The Human Equation - 3:05
"Ayreon": The Story of Ayreon - 4:26
"Drums": Ed Warby's drums - 3:32
"Video": Video clip Day Eleven: Love (5.1 & 2.0) - 3:49
"Teaser": Teaser trailer - 1:28
External Links
Edit