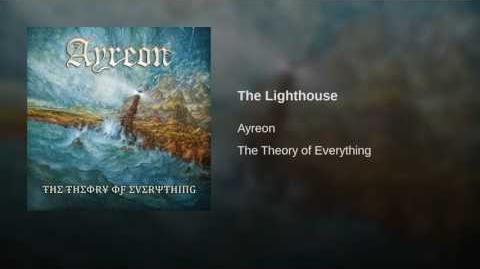 The Lighthouse is the thirty-third song in The Theory of Everything. It is the eleventh song on the second CD, and the second in Phase IV: Unification. It is three minutes and sixteen seconds long. It is preceded by "Mirror of Dreams" and followed by "The Argument 2." Cello provided by Maaike Peterse, and contrabass flute by Jeroen Goossens.
Liner Notes
Edit
"After being rejected by the Girl, the Prodigy turn to his only friend, the Teacher. The Prodigy needs a safe place where he can work on the Theory of Everything and take time to sort himself out The teacher knows of the perfect place - there's an old renovated lighthouse up for sale. After pulling off the bank scam with the Rival, money is no object: the Prodigy buys the lighthouse and retreats there, virtually going "off the grid." The teacher is the only one who knows his whereabouts, and checks on him every day."
Characters/Singers
Edit
[Teacher:]
It's time to put things in perspective
Find your way again
Let me take you to the lighthouse
Where you can hide away
[Prodigy:]
I only want to be alone
To work the numbers on my own
I need to show my father
I need to show them all… I am the one
[Teacher:]
Your time has come
[Prodigy:]
To unlock the equation
[Prodigy and Teacher:]
The Theory of Everything
[Teacher:]
If you're troubled by the visions
The chaos in your mind
If the voices start to whisper
Call me, day or night!
[Prodigy:]
Don't worry, I'll be fine
[Teacher:]
Don't underestimate the danger
[Prodigy:]
I'm gonna make the theory shine
[Teacher:]
You'll regret it sooner or later
[Prodigy:]
I need to show my father
I need to show them all… I am the one
[Teacher:]
Our time has come
[Prodigy:]
I will find the equation
[Teacher and Prodigy:]
The Theory of Everything