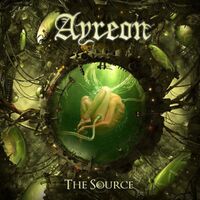 The Source is the ninth studio album from Ayreon, it was released on April 28th, 2017, under the Mascot Label Group.
Synopsis
Edit
The Source marks the return to the science fiction storyline of previous Ayreon's albums, serving as prequel for 01011001, making it the first one of the chronology as this album explores the origins of the Forever, the alien race from Y which is important part of the storyline.
Vocalists
Edit
(Listed in order of appearance)
James LaBrie (Dream Theater) as The Historian
Tommy Karevik (Kamelot, Seventh Wonder) as The Opposition Leader
Tommy Giles Rogers, Jr. (Between the Buried and Me) as The Chemist
Simone Simons (Epica) as The Counselor
Nils K. Rue (Pagan's Mind) as The Prophet
Tobias Sammet (Edguy, Avantasia) as The Captain
Hansi Kürsch (Blind Guardian) as The Astronomer
Mike Mills (Toehider) as TH-1
Russell Allen (Symphony X) as The President
Michael Eriksen (Circus Maximus) as The Diplomat
Floor Jansen (Nightwish, ex-After Forever, ex-ReVamp) as The Biologist
Will Shaw (Heir Apparent), Wilmer Waarbroek, Jan Willem Ketelaars, and Lisette van den Berg (Scarlet Stories) as The Ship's Crew
Zaher Zorgati (Myrath) as The Preacher
Musicians
Edit
Arjen Anthony Lucassen – Electric and acoustic guitars, bass guitar, mandolin, synthesizers, Hammond, Solina Strings, all other instruments
Ed Warby – Drums
Guest Musicians
Edit
Joost van den Broek (ex-After Forever) – Grand piano and electric piano
Mark Kelly (Marillion) – Synthesizer solo on "The Dream Dissolves"
Maaike Peterse (Kingfisher Sky) – Cello
Paul Gilbert (Mr. Big, Racer X) – Guitar solo on "Star of Sirrah"
Guthrie Govan (The Aristocrats, ex-Asia) – Guitar solo on "Planet Y Is Alive!"
Marcel Coenen (Sun Caged) – Guitar solo on "The Dream Dissolves"
Ben Mathot – Violin
Jeroen Goossens (ex-Pater Moeskroen) – Wind instruments
Track list
Edit
The album is divided in four "chronicles", with each one of these chapters having an introduction by The Historian in order to gave more context of the history.
Chronicle 1: The 'Frame
Edit
The Day That the World Breaks Down
Sea of Machines
Everybody Dies
Chronicle 2: The Aligning of the Ten
Edit
Star of Sirrah
All That Was
Run! Apocalypse! Run!
Condemned to Live
Chronicle 3: The Transmigration
Edit
Aquatic Race
The Dream Dissolves
Deathcry of a Race
Into the Ocean
Chronicle 4: The Rebirth
Edit
Bay of Dreams
Planet Y Is Alive!
The Source Will Flow
Journey to Forever
The Human Compulsion
March of the Machines
Ad blocker interference detected!
Wikia is a free-to-use site that makes money from advertising. We have a modified experience for viewers using ad blockers

Wikia is not accessible if you've made further modifications. Remove the custom ad blocker rule(s) and the page will load as expected.